Since 2005, through the radio ministry of Psalms of Hope, Samantha Landy has been reassuring listeners that no matter how difficult their life has been, or if they are even now struggling, they are loved by God, unconditionally and He desires to shower His grace and mercy upon them. According to Romans 2:4, it is God's kindness that brings repentance.
Psalms of Hope radio began in Palm Springs, CA on the Christian station at the suggestion of the owner, Dan Pike. After prayer, Samantha felt the Lord was directing her to combine brief moments of teaching along with southern gospel music. Only one month later, Jackie Yockey, the president of High Adventure Ministries, was vacationing in the Palm Springs area and heard Psalms of Hope on the Christian station. From only four local programs, suddenly God launched Psalms of Hope radio into an international ministry, broadcasting out of downtown Jerusalem and throughout the Middle East and Africa.
Now Psalms of Hope is also heard throughout the United States, as well as on Short Wave radio into the 10/40 window of the Far East into India, Indonesia, Papa New Guinea and other countries and into the world through the Internet and social media outlets.
With no church or other organization funding the ministry of Psalms of Hope, Samantha depends on the listeners of Psalms of Hope to keep the program on their station. Samantha does not take a salary, so all of the donations are used in ministry.
In addition to the weekly program, you will find additional resources on Samantha's website. Here you will find CDs and Samantha's books and on FB you will also find videos of some of the Christian Celebrities who have spoken for Christian Celebrity Luncheons.
About Samantha Landy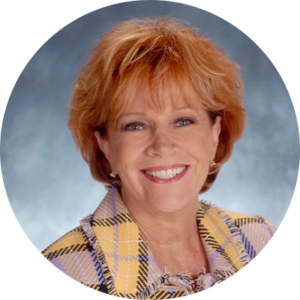 For over 40 years, Samantha has been in involved in media, locally as well as internationally. She hosted a TV show in the San Francisco Bay Area, as well as worked in radio. Samantha's radio program, Psalms of Hope, has been carried for seventeen years on Christian and secular stations in the United States. The Voice of Jerusalem also broadcasts Psalms of Hope out of downtown Jerusalem into Israel on HOTV Cable Systems, as well as on FM radio stations covering, Jordan, Iraq and Africa and the Internet, enabling listeners to hear Psalms of Hope all over the world. Psalms of Hope is also on Short Wave radio, covering the 10/40 window including India, Papa New Guinea, Indonesia and surrounding countries.
In 1986, Samantha founded a monthly luncheon, Christian Celebrity Luncheons, in the Palm Springs area of California. She has hosted a dynamic list of high-profile Christians and inspired and touched countless lives with 4800 first-time salvation decisions. Actors including Gavin MacLeod, Debra Paget, Cheryl Prewitt Salem, Miss America 1980, Charlie Duke, the astronaut, as well as columnist, Cal Thomas from Washington, DC. are among the speakers.
She has appeared on national television programs including The 700 Club, Living the Life, Talk of the Desert, Nightline, 100 Huntley Street, Augusta TV, and many others, as well as numerous times on TBN. Her radio interviews have challenged radio audiences from Minneapolis, to Tulsa, to Chicago, to Seattle and New York.
As a conference speaker, Samantha has ministered in many of the states, Canada, England and Mexico… sharing the Good News that ordinary people are loved, unconditionally, by an extraordinary God.
For the past fifteen years, Samantha has served on the Guideposts National Advisory Cabinet. In the past she has been on various college and church boards, and recently the Walter Hoving Home Board, ministering to rescuing girls out of prostitution and drugs. She supports many charities and, in the 80's in California she was a counselor and President of the Board, for a low-cost counseling center, as well as financially sponsoring some young women with their educational goals.
She has authored twenty-one books and participated in three devotional books. She has written countless articles for publications such as The Plus Magazine, Dove Tails, Women's Aglow, Significant Living and The Christian Communicator. Her column, Ask Samantha, for singles in the Significant Living Magazine was read nationally. Her tenth book, Savvy Singles' Relationship Secrets was awarded the coveted Angel Award from the Excellence in Media Organization. (Her second Angel earned.)
Samantha received the prestigious Distinguished Woman of the Year award in 2010 from the Northwood University, a Business Management University, for her leadership qualities and ministry accomplishments.