Sun 1:30PM
The Reformed Witness Hour is committed to the proclamation of God's Truth from the viewpoint of Romans 11:36:
We believe that man was created to serve and glorify the one true God revealed in the Bible. Fallen in Adam, man's great problem is that by nature he cannot and will not serve and glorify God. This brings the just wrath of the Holy God upon man. It is only through God's grace in His Son Jesus Christ that His chosen people can know and glorify Him. God reveals Jesus Christ and His grace in the Bible, the inspired Word of God. Through the proclamation of this Word, God is pleased to gather His people to Himself in the way of repentance and faith.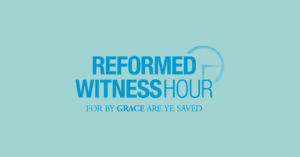 In the very first broadcast of the Reformed Witness Hour on October 12, 1941 Rev. Herman Hoeksema explained the purpose, confession, and theme of our program:
"The supreme and, in a sense, the only task of the church is to preach the Word of God. But if there is a Word of God to be proclaimed by the church, it must needs be a Word which God Himself speaks, and which He speaks concerning Himself. And if God speaks concerning Himself, the basic and all-pervading note of that speech must inevitably be: I am God!
By God's grace, we continue to proclaim this Word more than 80 years after that first message aired. We heartily thank God for His faithfulness towards our internet and radio program!