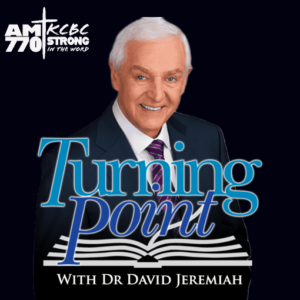 Founder and host of Turning Point for God and senior pastor of Shadow Mountain Community Church, David Paul Jeremiah, was born February 13, 1941, in Toledo, Ohio. He is one of four children born to James and Ruby Jeremiah. During his childhood, his family moved to Dayton, Ohio, where his father, James T. Jeremiah, served as Pastor of Emmanuel Baptist Church. In 1953, the Jeremiah family moved to Cedarville, Ohio, when his father became the President of Cedarville College—which is now Cedarville University.
Growing up in a pastor's home, David was immersed in ministry from an early age. During his senior year at Cedarville College, he felt God's calling to enter full-time ministry. He received his Bachelor of Arts degree in 1963, and that same year he married his college sweetheart, Donna Thompson. After graduation, they moved to Dallas, Texas, where David attended Dallas Theological Seminary. He received his Master's degree in Theology in 1967. Completing additional graduate work at Grace Seminary, he was granted the Doctor of Divinity degree from Cedarville College in 1981.
In 1969, David and Donna began a church plant in Fort Wayne, Indiana, with seven families in attendance. He served as pastor at Blackhawk Baptist Church for twelve years. During that time the church grew to 1,300 members, Blackhawk Christian School was founded, and The Bible Hour television program was launched.
In 1981, the Jeremiah family, which now included four children, followed God's call and moved to California when Dr. Jeremiah became the senior pastor of Scott Memorial Baptist Church, which is now Shadow Mountain Community Church. Today Shadow Mountain Community Church is one of the largest churches in San Diego county with eight satellite locations including Hispanic and Arabic congregations. The main campus of the church, located in El Cajon, California, is also the home to Southern California Seminary and Christian Unified Schools, a multiple site kindergarten through twelfth-grade Christian school district.